Product Description:
YZO series three-phase asynchronous motor vibration source set the power source and vibration source as a whole, is a versatile energy efficient excitation source, small, exciting force, reliable structure, easy maintenance, referred to as the vibration motor. The products are widely used in mining, coal, electricity, chemicals, food processing, metallurgy, casting, light industry, medicine and other industries. Is to achieve powdered, granular, massive mechanization and other granular materials screening, conveying, crushing, filling, ideal excitation source anti-clogging. The machine can be used stand-alone, multi-machine can also be used in combination.
1, Vibration motor conditions of use
When this series of vibrating motors meet the following conditions for continuous rated output excitation force.
(A) vibration acceleration: no more than 7g (g: acceleration of gravity)
(2) Ambient temperature: no more than 40 ℃
(3) Altitude: not exceed 1000m
(4) Power frequency: 50HZ
(5) Voltage: 380v
(6) Temperature rise: less than 80K (resistance method)
2, Vibration motor model description
YZO series vibration motor model (as an example) consists of three parts
YZO-5-6
YZO --- vibration motor
5 --- maximum excitation force (kN)
6 --- Poles
3, YZO series vibration motor parameters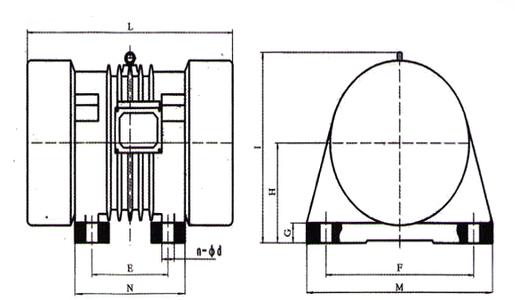 Model

Force
(KN)
Power
(KW)
Current
(A)
Speed
(r/min)

Mounting dimensions

Weight
(kg)

E

F

G

H

I

L

M

N

n

Φd

YZO-1.5-2

1.5

0.15

0.35

3000

124

180

30

82

203

300

210

150

4

10

19

YZO-2.5-2

2.5

0.25

0.58

150

180

25

82

198

328

220

178

4

12

24

YZO-5-2

5

0.4

1.15

176

220

35

91

26

362

270

206

4

14

37

YZO-8-2

8

0.75

1.84

180

236

30

142

301

427

292

247

4

18

53

YZO-16-2

16

1.5

3.84

200

236

30

142

301

451

292

267

4

18

75

YZO-2.5-4

2.5

0.25

0.58

1500

250

180

25

82

198

328

220

178

40

12

27

YZO-5-4

5

0.4

1.15

176

220

35

91

216

388

270

178

4

14

43

YZO-8-4

8

0.75

1.84

180

236

30

142

301

427

292

247

4

18

61

YZO-10-4

10

1.0

2.3

180

236

30

142

301

473

292

247

4

18

75

YZO-17-4

17

0.75

1.8

150

260

25

135

350

420

320

240

4

27

78

YZO-20-4

20

2.0

4.1

224

270

30

163

370

525

330

298

4

20

135

YZO-30-4

30

2.5

5.75

184

326

35

195

425

530

400

306

4

30

168

YZO-50-4

50

3.7

7.4

184

326

35

195

425

530

400

306

4

30

180

YZO-75-4

75

5.5

11

248

440

37

240

512

650

530

400

4

36

350

YZO-5-6

5

0.4

11.5

1000

176

220

35

91

216

388

270

216

4

14

48

YZO-8-6

8

0.75

1.84

180

236

30

142

301

471

292

247

4

18

65

YZO-10-6

10

0.75

2.3

180

236

30

142

301

473

292

247

4

18

80

YZO-12-6

12

1.1

2.1

150

260

25

135

350

420

320

240

4

27

82

YZO-20-6

20

2.0

4.1

224

270

30

163

370

520

330

296

4

20

142

YZO-30-6

30

2.5

5.75

184

326

35

195

425

530

400

306

4

30

180

YZO-50-6

50

3.7

7.4

184

326

35

195

425

550

400

300

4

30

200

YZO-75-6

75

5.5

11

248

440

37

240

512

650

530

400

4

36

370
Contact us:
Email:cndahan@dahanmachine.com
Whatsapp:0086-15836009878